About Us
---
Hotel Chandigarh Beckons, welcomes you to a world of gracious hospitality, luxury and style.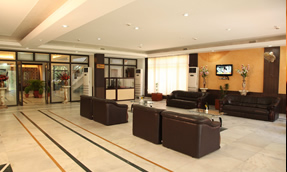 Apart from its prime location and magnificent surroundings, Hotel Chandigarh Beckons offers a range of guest facilities, warm & personalized service backed by efficient professional and technical support, making it your dream destination for all special occasions.

Hotel Chandigarh Beckons, offers a personalized stay in its contemporary and chic accommodation combined with unrivaled business and recreational facilities. New age amenities complemented by impeccable service, fine cuisine and unlimited entertainment options to choose from. It is perfect for long stays and discerning business travelers who want a home-like environment yet follow an individualistic lifestyle.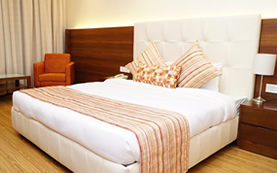 Our guests reside in their bright and airy rooms with abundant amount of sunlight. The rooms with en suite bathrooms are connected to a common lounge area which can be used for internet browsing, dining or for relaxation. The corridors connected to the lounge with its various potted plants and overhanging branches or the terrace on the top is usually used by our guests while enjoying their morning tea. Complimentary breakfast is served every morning in the restaurant.


Accommodation:  22 luxurious Rooms & 4 Suites with all new age amenities, Air Conditioned with running hot & cold water, STD Facility, Digital Cable T.V., Tea & Coffee Maker, Round the clock Room Service.
Atithi:  The Multi-Cuisine Restaurant.
Kick Start:  Modern Bar to savour great taste .
Greetings:  A lavishly spread Banquet for over 150 pax.
Summit:  A multipurpose hall ideal for Conferences & Get Togethers up to 80 pax.
Terrace:  An open air terrace with spread for over 200 people for Marriages & Parties.
Kitty Hall: A multipurpose hall for 15-20 pax ideal for small Kitties & Conferences.
Palms Retreat: A Party Lawn for Corporate and Social Functions up to 300Pax.
Other Facilities:  Travel Desk, Tourist Information, Car Rental, Business Centre, Internet, Doctor on Call, Ample Parking & Automatic Fire Alarm System.